We get your brand positioned at some of the highest profile sporting events in your region that captures your target demographic!
An exciting array of promotional
packages coupled with legendary customer service.
PROGRAMMES
PROGRAMMES
BILLBOARD
BILLBOARD
STATIC BOARD
STATIC BOARD
PLAYERS TUNNEL
PLAYERS TUNNEL
L E D
L E D
STEWARDS JACKET
STEWARDS JACKET
POSTER
POSTER
ONLINE MARKETING
ONLINE MARKETING
Sporting Ads helps brands realise the true potential of traditional advertising, taking it one step further by enhancing engagement and building lasting connections with fans and sports clubs turning them into genuine partnership marketing platforms.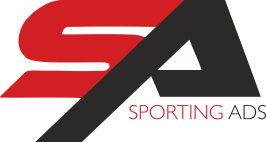 Many options available to suit all budgets and with an optional design service available in all of the packages.
Check availability at your local club